Matchless Parisian Novelty, Inc.
Since 1898, Parisian Novelty has been recognized in the promotional products industry for –
Superior Quality
Wide Selection
Fast Delivery
Exceptional quality and dimensional accuracy
Fast delivery – most items immediately available
Superior customer service
Today, we continue to manufacture all our parts in our Chicago facility. We offer round button parts in sizes from 26 ligne through 6 inch, rectangles, squares, oblongs, ovals, and various windows, pin styles, and clip backs.
With a tight deadline, the last headache you need is inferior parts jamming or failing in your equipment. Key players in the promotional products industry know they can count on Matchless Parisian every time they order. We pride ourselves on quick turnaround and meeting each customer's unique requirements for specific sizes, inventory levels and service paradigms.
For the occasional consumer, we offer complete kits for your use in making promotional buttons for sports teams, fund raising events, elections, and any activity you wish to promote – call us for details.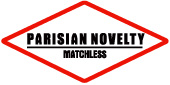 Where the pros have shopped for over 100 years...
Click on a category to explore our product lines...
Made in USA

Since 1898